The Fourth Doctor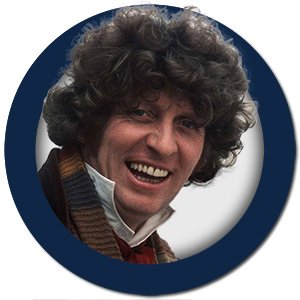 Ahh, The Fourth Doctor, played by Tom Baker from 1974 to 1981, is probably the most iconic Time Lord. With an absurdly long scarf, equally characteristic hat and coat and a smile sometimes equipped with an apparent abundance of teeth, The Fourth Doctor is a fan favourite and we're thrilled to be reviewing his serials now.




Podcast
C081 Planet of Evil
Predator Admiral Ackbar, another disco werewolf, and a ménage-à-granddad


Podcast
C080 Terror of the Zygons
The trustee of the Golden Haggis Lucky Dip commands a lactating Loch Ness Monster in a bid to destroy the environment




Podcast
C076 The Ark In Space
The combined knowledge of humanity is conveniently stored on microfilm, but Brundlefly would rather just eat it.


Podcast
C075 Robot
An Einstein impersonator invents a growing robot capable of complex emotions and some entitled scientists direct it to commit robberies in Tom Baker's debut serial as The Fourth Doctor.


Podcast
C074 Planet of The Spiders
Pertwee shines in a his farewell serial as he faces off against a spider senate and runs over vagabonds with a hovercraft


Podcast
B002 50th Anniversary Special
Has it been half a century already? I joined über-fans Gina and JD to chat about the con, cosplay, panel talks and The Night/Day of the Doctor.