The Fourth Doctor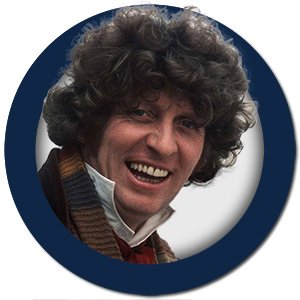 Ahh, The Fourth Doctor, played by Tom Baker from 1974 to 1981, is probably the most iconic Time Lord. With an absurdly long scarf, equally characteristic hat and coat and a smile sometimes equipped with an apparent abundance of teeth, The Fourth Doctor is a fan favourite and we're thrilled to be reviewing his serials now.


Podcast
C085 The Seeds of Doom
"The Thing" meets "Day of the Triffids" with elements of 007, and perhaps the greatest Doctor Who serial ever


Podcast
C084 The Brain of Morbius
Despotic Time Lord Morbius is resurrected as a Fishbowl-Claw-Monster to… take over the universe?


Podcast
C083 The Android Invasion
Doc and Sarah match wits with finger-blasting androids and two walnuts from space planning to invade Earth




Podcast
C081 Planet of Evil
Predator Admiral Ackbar, another disco werewolf, and a ménage-à-granddad


Podcast
C080 Terror of the Zygons
The trustee of the Golden Haggis Lucky Dip commands a lactating Loch Ness Monster in a bid to destroy the environment




Podcast
C076 The Ark In Space
The combined knowledge of humanity is conveniently stored on microfilm, but Brundlefly would rather just eat it.