U.N.I.T.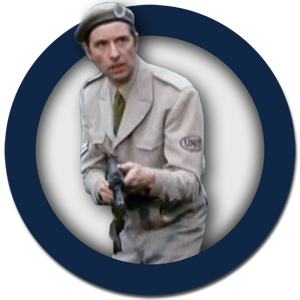 A branch of the military focusing on the alien and the paranormal. Originally led by Brigadier Alistair Gordon Lethbridge-Stewart and later by his daughter, Kate Stewart, U.N.I.T. was a common fixture in many an Earth-based serial in the 70s.


Podcast
N118 The Magician's Apprentice
Doc's night out in Essex is cut short as we're treated to the origin story of one of the greatest nemeses of Doctor Who


Podcast
N103 The Day of the Doctor
The Tenth, Eleventh and War Doctor battle Daleks, smooch a Zygon and seemingly prove that the gun is mightier than the pen in this glorious Doctor Who 50th Anniversary Special


Podcast
C085 The Seeds of Doom
"The Thing" meets "Day of the Triffids" with elements of 007, and perhaps the greatest Doctor Who serial ever


Podcast
C083 The Android Invasion
Doc and Sarah match wits with finger-blasting androids and two walnuts from space planning to invade Earth


Podcast
C080 Terror of the Zygons
The trustee of the Golden Haggis Lucky Dip commands a lactating Loch Ness Monster in a bid to destroy the environment


Podcast
N092 The Power of Three
A helmet-less Vader, Trojan Horse cubes and one of our favourite fan theories to date!


Podcast
C075 Robot
An Einstein impersonator invents a growing robot capable of complex emotions and some entitled scientists direct it to commit robberies in Tom Baker's debut serial as The Fourth Doctor.