The Seventh Doctor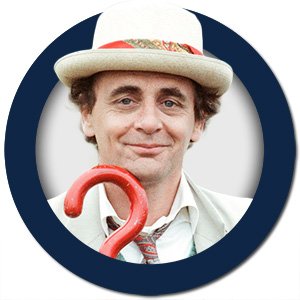 The Seventh Doctor, played by Sylvester McCoy from 1987 to 1989, as well as in the 1996 movie, tragically appeared in an era of waning funding and appreciation for Doctor Who. As such, he never stood much of a chance. We can't wait to get to his serials, though, as we're told the Seeeeeeeeventh Doctor was one of the best.


Podcast
C148 Time and The Rani
The Rani implements a convoluted stratagem and the Seventh Doctor skips over plot holes in his debut serial




Podcast
A030 The Harvest
Despite body horror and mild Brexit propaganda, we fall head over heels for the Seeeeeeeeventh Doctor as he squares off against Euro-Combine Harvesters




Podcast
N103 The Day of the Doctor
The Tenth, Eleventh and War Doctor battle Daleks, smooch a Zygon and seemingly prove that the gun is mightier than the pen in this glorious Doctor Who 50th Anniversary Special


Podcast
N102 The Name of the Doctor
The Great Intelligence employs those chaps from Buffy and a Back-To-The-Future letter to lure The Doctor to Trenzalore


Podcast
B002 50th Anniversary Special
Has it been half a century already? I joined über-fans Gina and JD to chat about the con, cosplay, panel talks and The Night/Day of the Doctor.