Zygons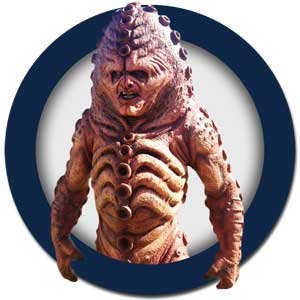 Squid creatures, covered in suckers and capable of shapeshifting, the Zygons are usually up to some infiltration plot or another.


Podcast
N103 The Day of the Doctor
The Tenth, Eleventh and War Doctor battle Daleks, smooch a Zygon and seemingly prove that the gun is mightier than the pen in this glorious Doctor Who 50th Anniversary Special


Podcast
A021 Death in Blackpool
Lucie Miller pays yet another visit to the not-quite-afterlife in her sort-of-but-also-not-quite-farewell audiobook


Podcast
C080 Terror of the Zygons
The trustee of the Golden Haggis Lucky Dip commands a lactating Loch Ness Monster in a bid to destroy the environment


Podcast
A012 The Zygon Who Fell To Earth
Doc & Lucie meet Auntie Pat again, and this time she's married, successful and happy… Well, they'll have to fix that, won't they?


Podcast
B002 50th Anniversary Special
Has it been half a century already? I joined über-fans Gina and JD to chat about the con, cosplay, panel talks and The Night/Day of the Doctor.