Captain Mike Yates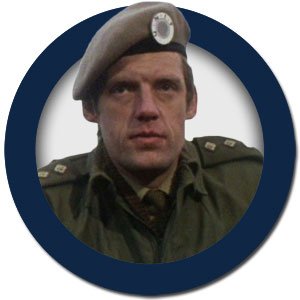 A U.N.I.T. chappy, Mike Yates was second in command to the Brigadier until he was brainwashed by the B.O.S.S. super-computer and retired to a monastery infiltrated by telepathic spiders.


Podcast
C130 The Five Doctors
Four-and-a-bit Doctors battle Cybers, a chap in silver spandex and a Time Lord conspiracy in the 20th Anniversary Special


Podcast
C074 Planet of The Spiders
Pertwee shines in a his farewell serial as he faces off against a spider senate and runs over vagabonds with a hovercraft




Podcast
C069 The Green Death
Doc is pitted against maggots, a giant fly and a wholly unrelated plot by a supercomputer to conquer the world of business in Jo Grant's final serial


Podcast
C064 The Time Monster
The Master summons a time pigeon and goes back to Atlantis where he finds a minotaur and other plot points.




Podcast
C059 The Daemons
The Master summons homicidal Morris Dancers, a Daemon and a gargoyle with a spring in his step to grant him godlike powers, and obviously everything goes wrong.


Podcast
C057 The Claws of Axos
Golden-haired, miracle-bearing cherubs descend from the heavens and no one suspects that they might have a hidden agenda.


Podcast
C056 The Mind of Evil
Psychiatric treatment of criminals using an alien in a bucket? It's got to be The Master!