Alistair Gordon Lethbridge-Stewart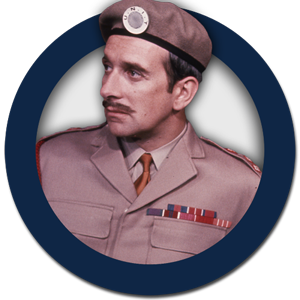 Brigadier Alistair Gordon Lethbridge-Stewart — BAGLS or "Bagels" for short — sported a mesmerising moustache and led U.N.I.T. against many an alien invasion attempt, all while being a great friend to The Doctor and his companions, an inspiring superior to our other U.N.I.T. favs and an all-round spiffing gent.


Podcast
C130 The Five Doctors
Four-and-a-bit Doctors battle Cybers, a chap in silver spandex and a Time Lord conspiracy in the 20th Anniversary Special


Podcast
C126 Mawdryn Undead
Two Bagels, one moustache. Doc & Co are split across time in the first part of the Black Guardian Trilogy


Podcast
C080 Terror of the Zygons
The trustee of the Golden Haggis Lucky Dip commands a lactating Loch Ness Monster in a bid to destroy the environment


Podcast
C075 Robot
An Einstein impersonator invents a growing robot capable of complex emotions and some entitled scientists direct it to commit robberies in Tom Baker's debut serial as The Fourth Doctor.


Podcast
C074 Planet of The Spiders
Pertwee shines in a his farewell serial as he faces off against a spider senate and runs over vagabonds with a hovercraft




Podcast
C069 The Green Death
Doc is pitted against maggots, a giant fly and a wholly unrelated plot by a supercomputer to conquer the world of business in Jo Grant's final serial


Podcast
C065 The Three Doctors
The First and The Second join The Third on an adventure in an anti-matter universe for the Ten Year Anniversary of Doctor Who


Podcast
C064 The Time Monster
The Master summons a time pigeon and goes back to Atlantis where he finds a minotaur and other plot points.