The Twelfth Doctor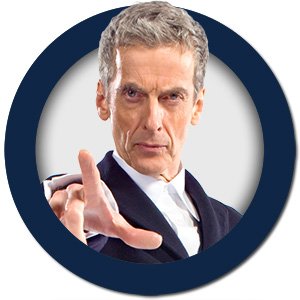 Peter Capaldi played The Twelfth Doctor from 2014 to 2017 to perfection, as the curmudgeon, sardonic, occasionally evil-eyed Scotsman. His TARDIS interior was gorgeous and he sported some nice coats, often combined with a hoodie and badass boots. Not a huge fan of that sweater with holes in it, but hey-ho. Capaldi, a lifelong Whovian, was brilliant in the role, echoing much of a tone of William Hartnell's first take on the Time Lord.


Podcast
N122 The Girl Who Died
The Twelfth Doctor, Clara and a Viking girl he reverse-remembers meeting at a later date set up Home Alone traps for a Monty Python God


Podcast
N121 Before the Flood
Doc breaks Beethoven's fourth wall to explain how a tall chap who turns people's souls into ham radios can plot to invade the Earth from beyond the grave


Podcast
N120 Under the Lake
Doc leaves Clara hanging in a haunted underwater research facility or military base or oil rig




Podcast
N118 The Magician's Apprentice
Doc's night out in Essex is cut short as we're treated to the origin story of one of the greatest nemeses of Doctor Who




Podcast
N115 Dark Water
The Doctor gets a smooch from his mistress and it turns out there's an afterlife!


Podcast
N114 In the Forest of the Night
The COBRA group's struggling with a global crisis; London's in apparent lockdown; and Doc and Clara go hiking with a Tiger King.


Podcast
N113 Flatline
With The TARDIS getting ever smaller on the outside, Clara must Doc up and investigate a case of killer graffiti