The Fourth Doctor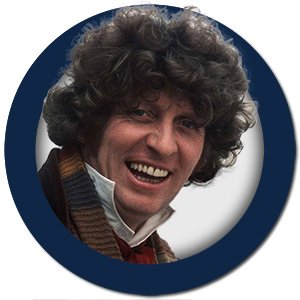 Ahh, The Fourth Doctor, played by Tom Baker from 1974 to 1981, is probably the most iconic Time Lord. With an absurdly long scarf, equally characteristic hat and coat and a smile sometimes equipped with an apparent abundance of teeth, The Fourth Doctor is a fan favourite and we're thrilled to be reviewing his serials now.




Podcast
C130 The Five Doctors
Four-and-a-bit Doctors battle Cybers, a chap in silver spandex and a Time Lord conspiracy in the 20th Anniversary Special


Podcast
C117 Castrovalva
It's a Doc in a box! Our brand new Doctor gets carried away while The Master seemingly gets his plans A and B mixed up




Podcast
C116 Logopolis
It's the end of an era. We get a new Master, a new companion, and a newish companion. Alas, we lose one of the most beloved Doctors in the process.


Podcast
C115 The Keeper of Traken
A legendary foe contests the ascension of a Keeper Elect in the first ever serial to feature an aubergine


Podcast
C114 Warriors' Gate
Statler and Waldorf provide running commentary on Paw Patrol's continued enslavement in a serial that sees the departure of two (!) companions


Podcast
C113 State of Decay
Doc and Romana team up with the single-greatest comb-over in E-Space to battle a Big Daddy Vampire


Podcast
C112 Full Circle
Cavemen and spiders attack in droves, but all the Lost Boys can think about is giant melons


Podcast
C111 Meglos
A sentient cactus possesses an accountant delivered by space pirates to impersonate The Doctor