The War Doctor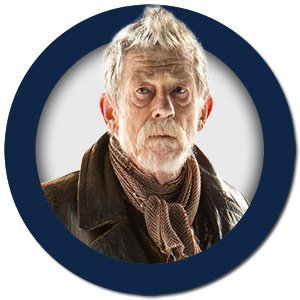 As part of the 50th Anniversary of Doctor Who, we were treated to a narrative offshoot of sorts, and thereby a non-numerical Doctor squeezed in between Paul McGann's Eighth Doctor and Christopher Eccleston's Ninth Doctor. Played by John Hurt, The War Doctor was created when Eight had a sip of some regeneration juice provided to him by the Sisterhood of Karn in 7 of the greatest minutes of New Who to date, "Night of The Doctor".


Podcast
N103 The Day of the Doctor
The Tenth, Eleventh and War Doctor battle Daleks, smooch a Zygon and seemingly prove that the gun is mightier than the pen in this glorious Doctor Who 50th Anniversary Special




Podcast
N102 The Name of the Doctor
The Great Intelligence employs those chaps from Buffy and a Back-To-The-Future letter to lure The Doctor to Trenzalore




Podcast
B002 50th Anniversary Special
Has it been half a century already? I joined über-fans Gina and JD to chat about the con, cosplay, panel talks and The Night/Day of the Doctor.