Daleks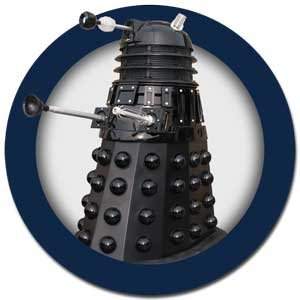 Militant pepper pots famously incapable of climbing stairs, although that soon changed, the Daleks were the next step in evolution of the Kaleds of the planet Skaro, engineered by their creator, Davros, to be the most devastatingly evil blobs in the universe.




Podcast
N103 The Day of the Doctor
The Tenth, Eleventh and War Doctor battle Daleks, smooch a Zygon and seemingly prove that the gun is mightier than the pen in this glorious Doctor Who 50th Anniversary Special






Podcast
C072 Death to the Daleks
Sarah Jane hand-cranks the TARDIS doors and narrowly escapes ritualistic murder while The Doctor finds a more interesting temporary companion.


Podcast
B048 Operation Pandorica, Part 4
In the final part of Operation Pandorica, the adventure reaches its crescendo as the forces of good and evil all converge on our heroes.


Podcast
B047 Operation Pandorica, Part 3
In Part 3 of Operation Pandorica, Eileen makes new friends, Wilf and Rory gain an ally, and Braceface takes the plunge.


Podcast
B046 Operation Pandorica, Part 2
In Part 2 of Operation Pandorica, Eileen is headhunted for The War Office, Wilf goes to make peace with Rory, and an old foe rolls through town.


Podcast
B045 Operation Pandorica, Part 1
In Part 1 of our very first Doctor Who Audio Adventure, we meet Wilfred Mott, Eileen Dover and Rory the Roman during the London Blitz.