Daleks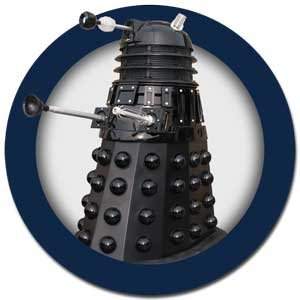 Militant pepper pots famously incapable of climbing stairs, although that soon changed, the Daleks were the next step in evolution of the Kaleds of the planet Skaro, engineered by their creator, Davros, to be the most devastatingly evil blobs in the universe.


Podcast
N055 Journey's End
The Doctor abandons Rose with a genocidal Donna in Tennant-form and there's no sign of The Shadow Proclamation anywhere!


Podcast
N054 The Stolen Earth
Companions and spin-offs collide when Davros and his new race of Daleks transport the Earth far across the universe


Podcast
C050 The War Games
The Second Doctor and his companions Interrail through some of humanity's greatest conflicts in Patrick Troughton's final serial.




Podcast
N032 Daleks in Manhattan
A sequence of "final" experiments, pig chaps, and what is ostensibly a Monoid with a Dalek for a hat.


Podcast
C036 The Evil of The Daleks
A Karl Marx lookalike delivers spiffing technobabble while time travel goes straight down the drain in this senseless yet hugely compelling serial.


Podcast
N027 Doomsday
It's Rose's last episode (sort of), with Sarcastic Daleks, a Doc who doesn't give a damn, and a Tyler family reunion