K-9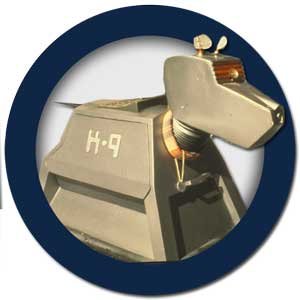 A Time Lord's best friend, K-9 was the robotic canine — Get it? — companion of The Doctor's, travelling with The Fourth, Fifth and Sixth Doctors, until eventually he reappeared alongside The Tenth, was blown up, reassembled and dumped all over again to instead embark on some Sarah Jane Adventures.


Podcast
C101 The Androids of Tara
Fembots, swashbuckling and a random Sasquatch. Plus everyone may be an android and we just never find out. What's not to like about this serial?


Podcast
C100 The Stones of Blood
Turns out that if you combine Druidic Hammer Horror, Inter-Dimensional SciFi and a Courtroom Drama, you get The Golden Girls


Podcast
C099 The Pirate Planet
A robot parrot, condensed planets and another piece of The Key To Time… ish. By the left frontal lobe of the sky demon, what a totally bananas serial this is!


Podcast
C098 The Ribos Operation
The Doctor and Romana (I) are tasked by Colonel Sanders to find six horcruxes in this opener to the season-long 'Key To Time' arc




Podcast
C096 Underworld
Jackson and The Argonauts take Team TARDIS to a newly formed, largely green-screen'd planet


Podcast
C095 The Sun Makers
Doc, Leela and K-9 lead a proletarian revolution against space capitalists on Pluto who may be in the business of making suns


Podcast
C094 Image of the Fendahl
A loony old trout helps prevent a golden sun goddess from sucking the life out of the world with her Gestalt band of space worms


Podcast
C093 The Invisible Enemy
Anti-body pillow fights, a fantastic voyage and the universe-threatening ejaculate of a megalomaniac space shrimp


Podcast
N055 Journey's End
The Doctor abandons Rose with a genocidal Donna in Tennant-form and there's no sign of The Shadow Proclamation anywhere!