The Fifth Doctor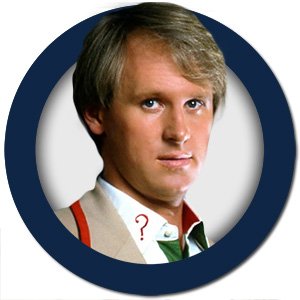 The Fifth Doctor, portrayed by Peter Davison from 1981 to 1984, was a happy-go-lucky chap and expert bowler (that's cricket, mind) with a stick of celery tucked in his lapel and question marks on his collar. He'd return for specials, including in the Children In Need one with Tennant


Podcast
C120 The Visitation
A highwayman helps Team TARDIS defeat pandemic-plotting dinosaurs and their disco robot


Podcast
C119 Kinda
It's colonialism in the garden of Eden meets a Commedia dell'Arte rendition of Transpotting




Podcast
C117 Castrovalva
It's a Doc in a box! Our brand new Doctor gets carried away while The Master seemingly gets his plans A and B mixed up


Podcast
C116 Logopolis
It's the end of an era. We get a new Master, a new companion, and a newish companion. Alas, we lose one of the most beloved Doctors in the process.




Podcast
N103 The Day of the Doctor
The Tenth, Eleventh and War Doctor battle Daleks, smooch a Zygon and seemingly prove that the gun is mightier than the pen in this glorious Doctor Who 50th Anniversary Special


Podcast
N102 The Name of the Doctor
The Great Intelligence employs those chaps from Buffy and a Back-To-The-Future letter to lure The Doctor to Trenzalore


Podcast
B002 50th Anniversary Special
Has it been half a century already? I joined über-fans Gina and JD to chat about the con, cosplay, panel talks and The Night/Day of the Doctor.