Bill Potts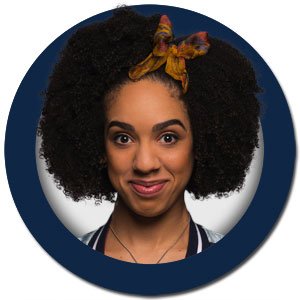 A student of The Doctor's, Bill Potts had barrels of charisma and instant on-screen chemistry with Peter Capaldi's Eleventh Doctor. She met a tragic end, being turned into a Mondasian Cyberman in World Enough and Time, before later being retconned to meeting a much more pleasant end when she was rescued by her inter-dimensional crush and resurrected to fly off on new adventures with her.




Podcast
N143 The Doctor Falls
The Genius Twins are the least of Bill's and Doc's worries in this highly divisive episode




Podcast
N141 The Eaters of Light
Doc & Co are happy to leave the fate of humanity in the hands of half a dozen childlike primitives with a very limited musical repertoire


Podcast
N140 Empress of Mars
Noisy Victorian males find sweet Fanny Adams on Mars, until the Ice Queen has a hissy fit


Podcast
N139 The Lie of The Land
Doc needlessly spreads propaganda for the enemy, performs a regeneration fake-out and kills innocent dock workers in the last part of the Monk trilogy




Podcast
N137 Extremis
Doc joins the world's most depressing bookclub, and where are these scientists getting their dynamite?!


Podcast
N136 Oxygen
Doc & Co want to breathe new life into space workers rights, but the puffed-up airheads running the head office may disagree