Martha Jones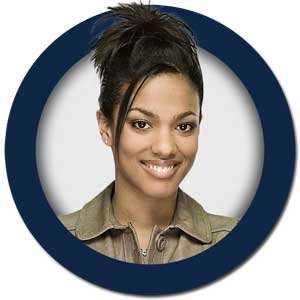 Martha Jones was the not-super-charismatic trainee Doctor who travelled with Tennant's Tenth Doctor. One of few companions whose family we got to meet as well, Martha eventually ended up being a badass working for Torchwood, wearing all-black and toting automatic weapons. She also once walked the Earth, like Cain in 'Kung Fu'.


Podcast
N038 Blink
We bring out the big guns for our 100th canonical Doctor Who review to talk about an episode that needs no introduction.


Podcast
N037 The Family of Blood
An inconsistent fob watch, nonsensical straw men, and some of the best acting on Doctor Who


Podcast
N036 Human Nature
An army of scarecrows, realistic depictions of racism, and an amnesiac Doctor




Podcast
N032 Daleks in Manhattan
A sequence of "final" experiments, pig chaps, and what is ostensibly a Monoid with a Dalek for a hat.


Podcast
N031 Gridlock
The Doctor teams up with an Irish cat and the Face of Boe when Martha Jones gets stuck in traffic.


Podcast
N030 The Shakespeare Code
Doc and Martha are nearly showered in excrement on their first non-date and Shakespeare couldn't be randier in this pseudo historical


Podcast
N029 Smith and Jones
Identical cousins, rhino police and a little old lady from space. We review Martha Jones' debut as The Tenth Doctor's new companion.