C046 The Invasion
---
Browse the WBW Podcast
---
Browse Classic Who reviews
---
Podcast: Play in new window | Embed
Raunchy photoshoots, the return of UNIT and a Cyberman plan as epic as it is absurd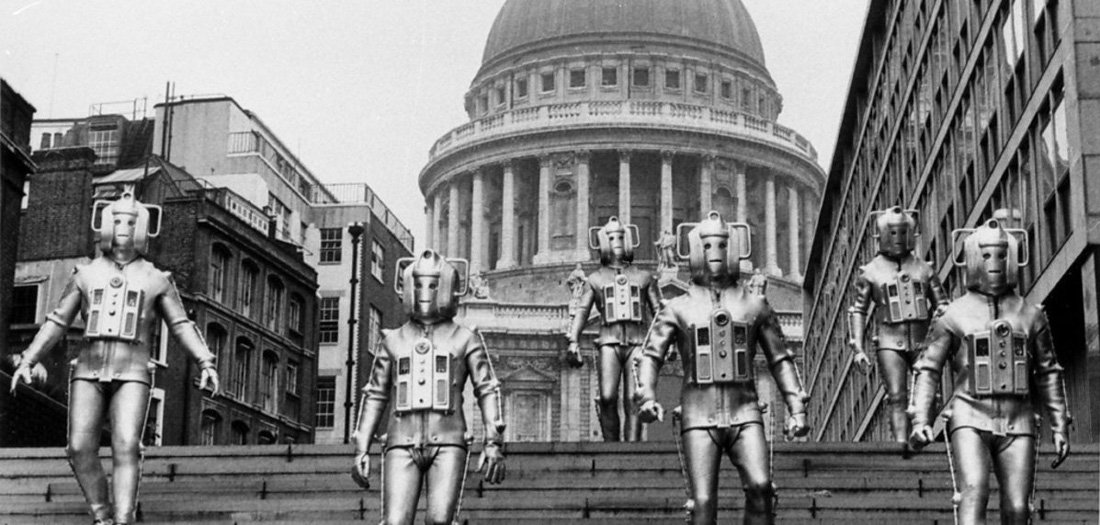 The Second Doctor and his companions, Zoe and Jamie, materialise in the TARDIS on the wrong side of the moon, only to discover an alien presence that they'll ignore for four episodes and then head off to the 1970s and (less) swinging London.
There they encounter the perfectly reasonable conglomerate of International Electromatics, lead by Tobias Vaughn, who's played by Kevin Stoney, who previously portrayed the similar character of Mavic Chen in The Daleks' Master Plan. They also bump into UNIT, lead by now Brigadier Alistair Gordon Lethbridge-Stewart, whom we last met in The Web of Fear, and who is now backed up by the also legendary Sergeant Benton (played by John Levene, who can be seen hanging out with Ponken in the pic here below).
Vaughn has struck an accord with an old foe of the Doctor's, though — the Cybermen — and as the title of this serial would imply, they're planning an invasion.
Have a listen to our review as we ask, and attempt to answer, the important questions, such as:
Is Toby Vaughn a robot?
Did Isobel and Turner do it?
Would yoghurt survive the Cyber Megatron Bomb?
… and much, much more!
John Levene! Aka Sgt Benton! What a guy… Did not expect to get so emotional. #DoctorWho #DrWho #LFCC2014 pic.twitter.com/gFc76MnYhJ

— Leon Ponken (@ponken) October 18, 2014