I've started this article over at least three times already. Honestly, I want to convey to you how over-the-moon I am about this fan work I recently heard, but nothing I come up with seems to do it justice. It's rare that a short story makes you bang your fist on whatever is in front of you and say, "Yes! THAT's how you do it!" Of course the next reaction is, "I want to talk to someone about this. I want to share it. I've got to tell people." So, people, here I am, telling you. But again, nothing I type seems adequate.
So What's it about?
How many of you out there like the Big Finish Doctor Who Short Trips? These are short adventures featuring a single actor doing a dramatic reading with little or no effects and music. Big Finish sells them at a much lower cost than their full productions so they're a bit more accessible in that context. If you haven't gotten into audio dramas proper, at least give one of these a try. They take up less of your time, but you will not feel short changed by any means.
Now what if I told you that the thing I am so enthusiastic about is not from Big Finish at all? It's from a fan. A person who likes the show, just like you and me. It was made in the fashion of the Big Finish short trips. Indeed I highly suspect that this was entered into the open writers contest that they host each year, I'm not sure though, our humble storyteller didn't really mention it. Further, if it was submitted, I just can't imagine it not winning. At the very least, it should have been recognised and produced along with whatever did win, because it's an utterly stunning work and the world deserves to know about it.
So…What's it about?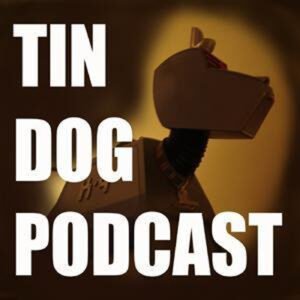 Anyway, I won't keep you in suspense any longer. On Sunday, April 19 2020, Michael M Gilroy-Sinclair, host of the Tin-Dog podcast posted episode 933, a reading of his short story, The Chaotic Element. Yes that's right, he's even a fellow podcaster. Don't feel like you're betraying anyone. The Tin-Dog podcast is of a totally different nature, and there's more than enough room for it and WBW in your life. I've been listening since he started and I can say you really should check out the podcast, but today I'm reviewing fan dramas, so REALLY, check out this particular story. The link is to the page, where the story is written out, but I encourage you to listen to the reading. It's so on-point.
Nellies Kittens! What is it about already?
So what should I say about the story itself? I don't want to give anything away. I can tell you that it's written around a particular doctor, and it's written so well, that you can tell right away which doctor you're supposed to be channeling, even though it's never mentioned. I can say that the world building is so sweet that you don't have to imagine the planet you are on, it will just be there for you. I can tell you that the characters are so likeable, and relatable, even the "baddie". Finally, I can say that it is without question a Doctor Who story. It's not a story that's been chucked into the DW universe, it is unmistakably WHO.
I'm not going to give you a plot summary because I don't want to give anything away. Hopefully you can click on the link and go to the mp3 without starting to read the story on the page, because that, too, would be a spoiler, and I want you to go in as close to cold as I did to this. Indeed I would give you a link to the audio directly, but I don't feel right doing that. Websites take a good deal of work and commitment and you should at least drop in. There's no extensive time commitment, there's no questionable acting, there's no strings, just a good reading of a phenomenal story. It's about 39 minutes and you really won't regret it.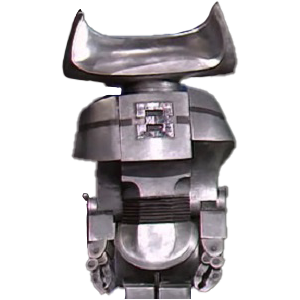 Is that a real exclamation used by people?
No.
If you like this story, check out Michael's other works:
A Villian in Venice: Jane (of the) Air (book)
Geek Myths (book)
Whostrology (book)
Blue Box Messiah (Play)
Schrödinger's Puppy (short story)
Get Angela Carter (story)
His books are available on Amazon and elsewhere.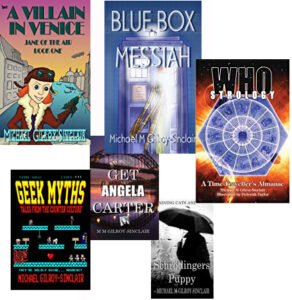 Bonus Off-topic Content:
Mini-Review: The Prisoner – Broken Sea productions audio drama
Based on the comic series. Returns No. 6 to the Village, or A village. There's also a followup series "Torchbearer".
Positives: It's very abstract and for the most part keeps your attention. Has a feel of the show and is a good continuation of the story in many ways. It's decently produced.
Negatives: It's very confusing, and not in a Prisoner-y way. I kind of feel I'm missing things by not reading the comic. It's a little slow.
Verdict: Okay. If you like the Prisoner, it will hold your attention, but really can anything really do it justice? It's like trying to recreate Hitchhikers guide.
What I've been listening to:
Big Finish: The Confessions of Dorian Gray: The Enigma (a little predictable, but I didn't care, really good)
Big Finish: The Confessions of Dorian Gray: Isolation (fun for Halloween-time)
The Babylon Podcast: They came back for a short time, and by the time I realized it, they were gone again.
Notable watchings:
Haunting of Bly Manor
The 100
Castlevania
Star Trek Continues
Altered Carbon